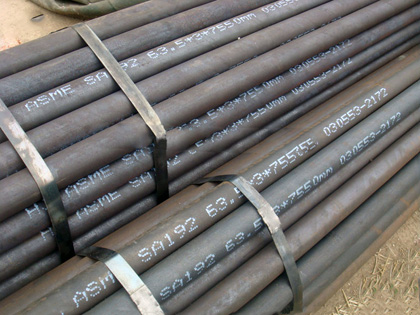 About ASTM A192 Steel Tube
OD:

12.7mm-177.8mm

WT:

2.2mm-25.4mm

Length:

2m-12m or as required
Application: Electrical resistance boiler tube, heat exchanger tube for petroleum and oil, chemical Industry, energy sources, etc.
Supplementary Technology: Plain or threaded with socket or beveled with plastic caps, hydraulic testing, eddy current, Infrared test.
Surface: Bared or painted, galvanized or with oiled or client option.
Delivery state: Annealed, Normalized, NT.
Steel Grade: A192
Product Scope:
ANSON is an experienced boiler and heat exchanger tube supplier which can offer you ASTM A192 steel tube of all grade and dimension range. ASTM A192 covers minimum-wall-thickness, seamless carbon steel boiler and heat exchanger tubes for high-pressure service, its mechanical property is similar to ASTM A179, while a lot lower than ASTM A210. During the production following mechanical tests shall be conducted: flattening test; flaring test; hardness test; and hydrostatic test. Hot-finished tubes need not be heat treated. Cold finished tubes shall be heat treated after the final cold-finishing at a temperature of 1200°F [650°C] or higher.
ASTM A192 Chemical Composition:
Steel Grade
Mfg. Process
ASTM A192 Chemical composition(%)
C
Si
Mn
P
S
Ni
Cr
Mo
Others
ASTM A192
S
0.06~0.18
0.25Max
0.27~0.63
0.035Max
0.035Max
-
-
-
-
ASTM A192 Mechanical Property:
Steel Standard
Steel Grade
Tensile Strength
Yield Strength (MPa)
Elongation (%)
Impact (J)
Hardness
not less than
not less than
not less than
not less than
ASTMA 192M ASME SA-192M
A 192/SA-192
180
35
-
77HRB(137HBW)
ASME SA179 ASTM A179
SA 179/A 179
180
35
-
ASTMA 210M ASME SA-210M
A210A1/SA-210A1
255
-
79HRB(143HBW)
A210C/SA-210C
275
-
89HRB(179HBW)
ASTM A192 Equivalent Steel Grade:
ASTM
STANDARD
UNS NO.
KOREA/JAPANES
GERMAN
BRITISH
BELGIAN
FRENCH
ITALIAN
KS/JIS Symbol
KS/JIS Numbe
Re
marks
DIN Type
DINNumber
MateriralNumber
Re
marks
B.SNumber
B.S Grade
Remarks
NBN Type
NBN Grade
Re
marks
AFNOR Type
NF Number
Re
marks
UNI Type
UNI Number
Re
marks
A 192Seamless C-Steel Boiler Tube for High Pressure Service
K01201
STBH 340 / STB 340
D3563 / G3461
(30)
St 35.8
17175
1.0305
3059
320
(27)(30)
D45
837
(27)
TU 37C
A49-213
(27)
C14
5462
(27)
ANSON can supply ASTM A192 steel tube from stock or from reputed steel mills. We also offer steel fabrication service where steel plates can go through processings like cutting, welding, bending, machining, pre-coating, pre-lined, beveling, or as you require. Our steel mills have fabricating employees that have 5-10 years of working experience. If you are interested in buying ASTM A192 steel tube products, contact us now for the latest price or check the following table for equivalent steel grade of ASTM A192.
Get In Touch With
We receive enquiries in English, Español (Spanish), Русский язык (Russian), Français (French) and العربية (Arabic). Our professional team will reply to you within one business day. Please feel free to contact us!