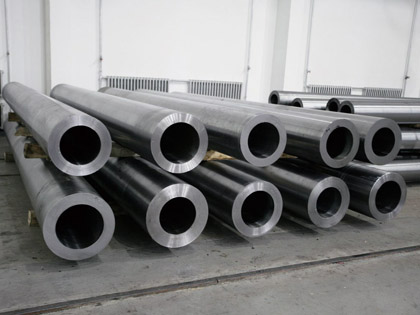 About ASTM A210 Steel Pipe
OD:

48mm-720mm

WT:

4mm-58mm

Length:

2m-12m or as required
Application: High pressure boiler tube, super heater tube, re-heated tube, main steam pipe.
Supplementary Technology: Plain or threaded with socket or beveled with plastic caps, hydraulic testing, eddy current, Infrared test.
Surface: Oil-dip, Varnish, Passivation, Phosphating, Shot Blasting.
Delivery state: Annealed, Normalized, Normalized and Tempered.
Steel Grade: Grade A-1, Grade C
Product Scope:
ASTM A210 is the standard covers seamless medium-carbon steel boiler and superheater tubes. ASTM A210 also covers minimum-wall-thickness, tubing sizes, boiler flues including safe ends, arch and stay tubes. ASTM A210 provides tensile and hardness properties but only applicable to certain size limitations. Material manufacturing shall be killed. Tubes shall be made by seamless process, marked as either hot-finished or cold-finished. Surface condition shall be specifically stated in the order. Chemical composition shall conform to the requirements. Elemental composition other than listed here shall not be permitted. Tension test, flattening test, flaring test, hardness test, hydrostatic or nondestructive electric test shall be made on specimens. Superheater tubes shall be formed without defects and shall withstand expansion, beading, forging, welding, and bending.
ASTM A210 seamless medium carbon steel pipe is applied for boiler pipe and boiler flue pipe with the minimum thickness, including safety end, vault, supporting pipe and super heater pipe.
ASTM A210 Chemical Composition:
Steel Standard
Steel Grade
ASTM A210 Chemical Compostion
C
Si
Mn
P
S
Cr
Mo
Cu
Ni
V
ASTM A210
A-1
≤0.27
≥0.10
≤0.93
≤0.035
≤0.035
C
≤0.35
≥0.10
0.291.06
≤0.035
≤0.035
ASTM A210 Boiler Tube Mechanical Property:
| ASTM A210 Steel Grade | Yield Strength (Mpa) | Tensile Strength (Mpa) | Elongation (%) |
| --- | --- | --- | --- |
| A-1 | ≥255 | ≥415 | ≥30 |
| C | ≥275 | ≥485 | ≥30 |
ASTM A210 Equivalent steel grade:
| ASTM A210 | UNI 5462-64 | EN 10216-2 | BS 3602 Part I | NF A 49-213 | NBR 5592 | DIN 17175 |
| --- | --- | --- | --- | --- | --- | --- |
ANSON can supply ASTM A210 steel tube from stock or from reputed steel mills. We also offer steel fabrication service where steel plates can go through processings like cutting, welding, bending, machining, pre-coating, pre-lined, beveling, or as you require. Our steel mills have fabricating employees that have 5-10 years of working experience. If you are interested in buying ASTM A210 steel tube products, contact us now for the latest price or check the following table for equivalent steel grade of ASTM A210.
Nominal wall thickness for ASTM A210 Steel Pipe
Hot rolled
Outside Diameter , mm
Tolerance, %
OD≤101.6, WT≤2.4
+40/-0
OD≤101.6, 2.4<WT≤3.8
+35/-0
OD≤101.6, 3.8<WT≤4.6
+33/-0
OD≤101.6, WT>4.6
+28/-0
OD>101.6, 2.4<WT≤3.8
+35/-0
OD>101.6, 3.8<WT≤4.6
+33/-0
OD>101.6, WT>4.6
+28/-0
Cold Drawn
Outside Diameter , mm
Tolerance, %
OD≤38.1
+20/-0
OD>38.1
+22/-0
Get In Touch With
We receive enquiries in English, Español (Spanish), Русский язык (Russian), Français (French) and العربية (Arabic). Our professional team will reply to you within one business day. Please feel free to contact us!