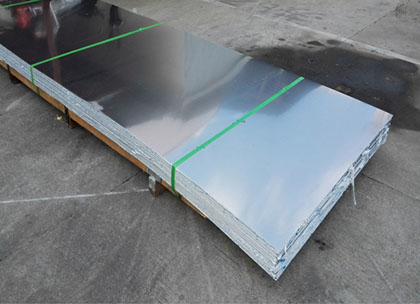 Pressure Purpose-Stainless Steel Sheet/Coil Details
Thickness:2-6mm; width:1000-15000
Surface finish: Annealed and pickled
Application: for boilers, pressure vessels and other pressure purposes.
Steel Grade: 304/304L; 316L, 316Ti, 321.
Stainless Steel Sheet Standards for pressure purpose:
EN10028-7: Flat products made of stainless steels for pressure purposes.
ASTM A240M: Chromium and chromium-nickel stainless steel plate, sheet and strip for pressure vessels and for general applications.
ASTM A480: General requirements for flat rolled stainless and heat-resisting steel plate,sheet and strip.
Hot and Cold Rolled Stainless Steel Coil Production:
| Product | Production process | Description | Abbreviation |
| --- | --- | --- | --- |
| Hot rolled | Hot rolled, annealed and Pickled | Condition and finish preferred for corrosion resisting and heat-resisting applications | No.1 or HRAP |
| Cold rolled | Hot rolled, annealed,descaled, cold rolled, annealing and pickling, final skin pass rolled | Smooth finish achieved by cold rolling, then annealing and pickling, followed by skin pass rolling. Typically available in thickness up to 8mm. | 2B |
Stainless Steel Sheet made from Steel Coil: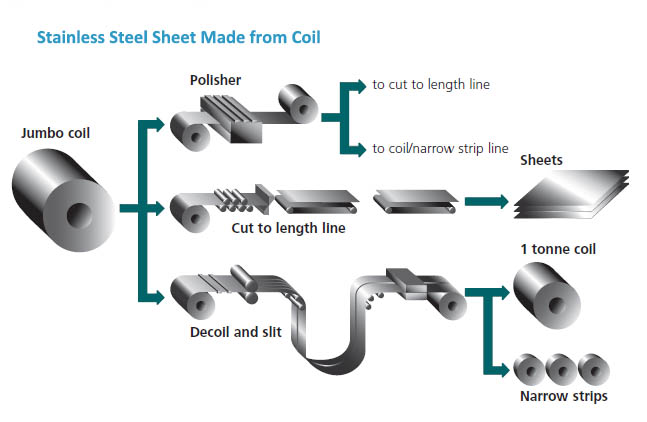 The internationally recognised crossover thickness between what is referred to as sheetand plate is 5.0mm. This is specified in ASTM A480M.
Therefore, sheet is thickness less than 5.0mm and plate is 5.0mm and over. It is common practice for large stainless steel coils to be brought into Australia and processed by a specialty metals service centre into smaller coils, sheet, strip and plate.
The range of stock of stainless steel flat products produced from large coil is limited to mill production constraints in thickness, width and grade and the processing equipment at the coil service centre.
Stainless Steel Sheet Surface Finishes:
Surface Finish Code
Description
Mill finishes
1D
Hot rolled, heat treated, pickled. The most common hotrolled finish. A non reflective, rough surface. Not normally used fordecorative applications
2B
Cold rolled, heat treated, pickled, pinch passed. Themost common cold rolled mill finish. Dull grey slightly reflectivefinish. Can be used in this condition or frequently is the startingpoint for a wide range of polished finishes.
2D
Cold rolled, heat treated, pickled.
2H
Work hardened by rolling to give enhanced strength level.Various ranges of tensile or 0.2% proof strength are given in EN10088-2 up to 1300 MPa and 1100 MPa respectively dependent on grade
2Q
Cold rolled hardened and tempered. Applies to martensitic steels which respond to this kind of heat treatment.
2R
Cold rolled and bright annealed, still commonly known asBA. A bright reflective finish. Can be used in this condition or as thestarting point for polishing or other surface treatment processes e.g.colouring
Other Stainless Steel Types: Stainless Steel Tube for heat exchanger tube, stainless steel plate
Fabrication Services: Steel Coil Slitting Line, Cut to Length line, polishing line.
Get In Touch With
We receive enquiries in English, Español (Spanish), Русский язык (Russian), Français (French) and العربية (Arabic). Our professional team will reply to you within one business day. Please feel free to contact us!